Explain Yourself. Why?
What am I doing here? IDK.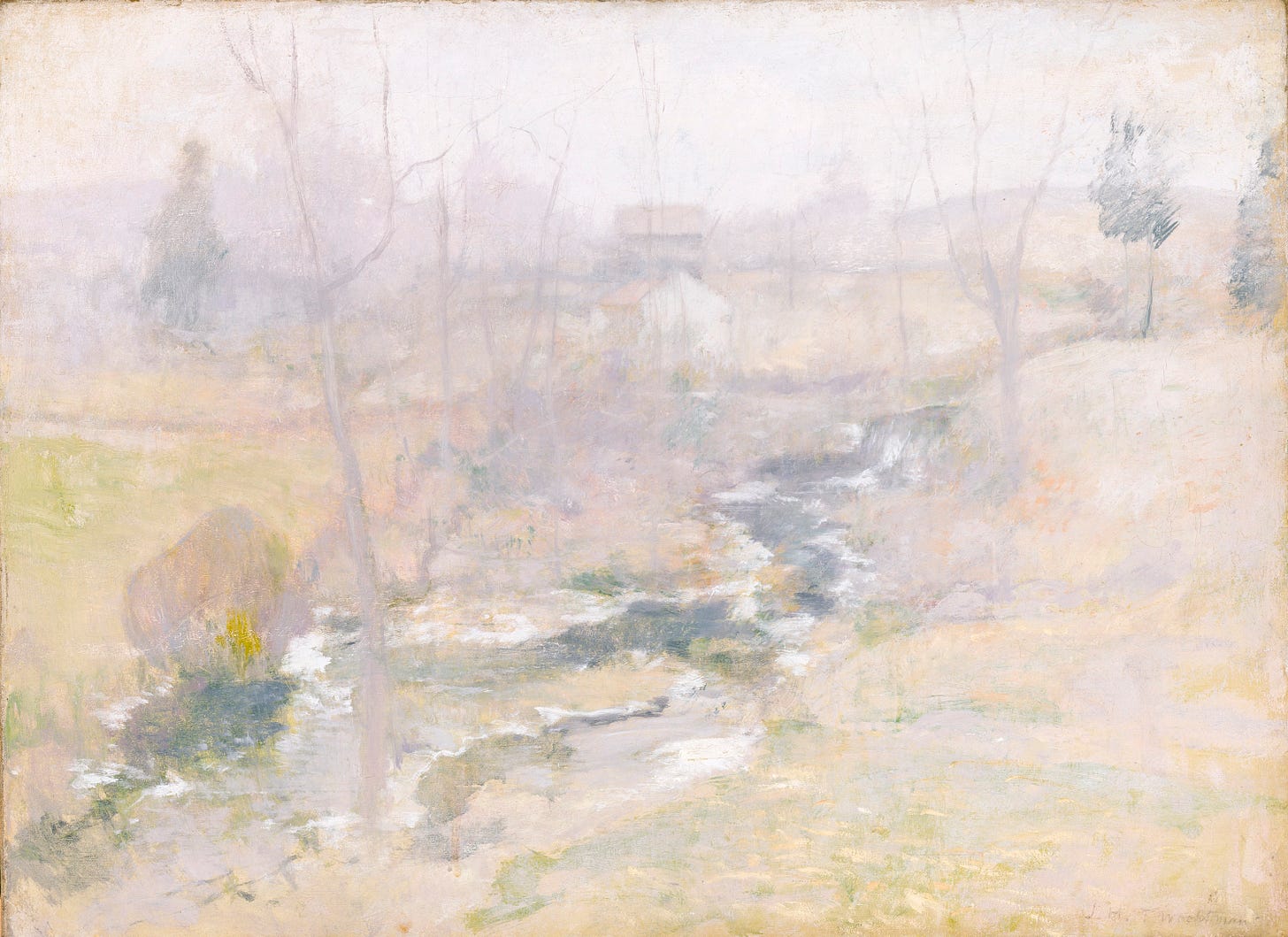 End of Winter, John Henry Twachtman, Smithsonian American Art Museum
---
Hi.
Welcome.
I'm Anthony, a hopeful nihilist.
Contradictory? Maybe. Who cares.
These are unprecedented times. What's sad is the long list of possible unprecedentedness running through your mind and that tightening in the chest you're questioning could be COVID, anxiety, or that brutal decade of booze and burgers coming to collect. Or maybe it's the realization the future feels more uncertain than ever before. 
Yeah, that. 
But a lot is going on right now and there's a bright sheen of surreality to it all. Is this real? Purgatory? Well, if it is, then it ain't that bad. Satan must have stock in weed, booze, and toilet paper. It's called diversification. Did you know God and Satan have the same financial planner? Greg. He's great. Or is it a simulation? Are we a video game? The Matrix? A Matrix? Did the world end? Can we change timelines? 
Are you there, God? 
Allah? 
Zeus? 
Shiva? 
Is this a multiverse? 
Maybe. 
Who knows? You don't. No one really does, either. We pretend we do, but our understanding of the universe is limited, or maybe it's near-complete, and we have it all figured out. We don't know. And we'll never know because it's impossible to know what you do not know. 
Today's world is raising serious questions about how we got here. And even more about where we go next. We're scared. I'm scared. Reaching 2021 feels impossible for the stupidest reasons. But those reasons exist, and this is our world. 
It's complicated and confusing, and everywhere you look is a cornucopia of endless propaganda, cure-alls, and paranoia. I'm not looking for The Answer, because there isn't one. No one will find it. No one will discover it. No one will plant a flag and colonize it. 
You can't find what you do not know exists. 
And that's scary. 
But there's hope, hopefully. I think. And while we may never find The Answer, we can always find hope. Let's find it together by asking questions, holding what little we understand of the world around us hostage under a microscope. Or maybe we hang it in the night sky and look at from millions of miles away through a telescope. Either way, we'll never see the enormity of our meaningless existence.
This is a journey without end, but one with only pleasant pitstops dotting an uncertain road.
And if you don't enjoy this journey, I do apologize, for I am a fool who knows nothing.
And so are you.